ROSY-CRIMSON
$38
Kim Hoeckele
Kim Hoeckele's book
Rosy-Crimson
brings her script of the same name together with photographs made in response. Assembled from text taken from Homer's epic
The Odyssey
, Hoeckele's script erases its titular character, Odysseus, replacing him with the minor goddess dawn. After compiling the revisionist script, Hoeckele constructed a collection of photographs in dialog with the text.
Rosy-Crimson
brings both together in an experimental binding.
The phrase "dawn's rosy fingers" recurs throughout
The Odyssey
over 20 times as a mnemonic device to aid an orator in retelling the epic poem. Hoeckele appropriated every iteration of this phrase and mention of dawn across thirteen English translations of
The Odyssey
to create the non-narrative script for
Rosy-Crimson
. Since 2016,
Rosy-Crimson
has been performed in galleries, in a museum, and most recently, outdoors at sunset. These variations in venue, as well as rotations of cast, are in themselves translations, drastically altering what is conveyed through each performance.
The photographs in
Rosy-Crimson
act as another form of translation. Reinterpreting one image of sunset taken over the Mediterranean Sea, Hoeckele created a collection of 28 photographs that refer to cycles in time in
The Odyssey
. Taken together,
Rosy-Crimson
questions the powerful and subjective role of the translator: Whose stories get told and whose stories are shifted to the margins?
Includes an essay written by Wendy Vogel.
Production Details

5.5 × 8 in
Book 1: 60 pages, Book 2: 48 pages
Softcover
Dos à Dos Wire-O bound
Cover Material: Colorplan 350gsm, Claret
Cover Details: foil stamping on front/back cover
4/4 digital offset



Colophon

Edition of 100
Designed by Kim Hoeckele
Bound by Annie Hillam
2022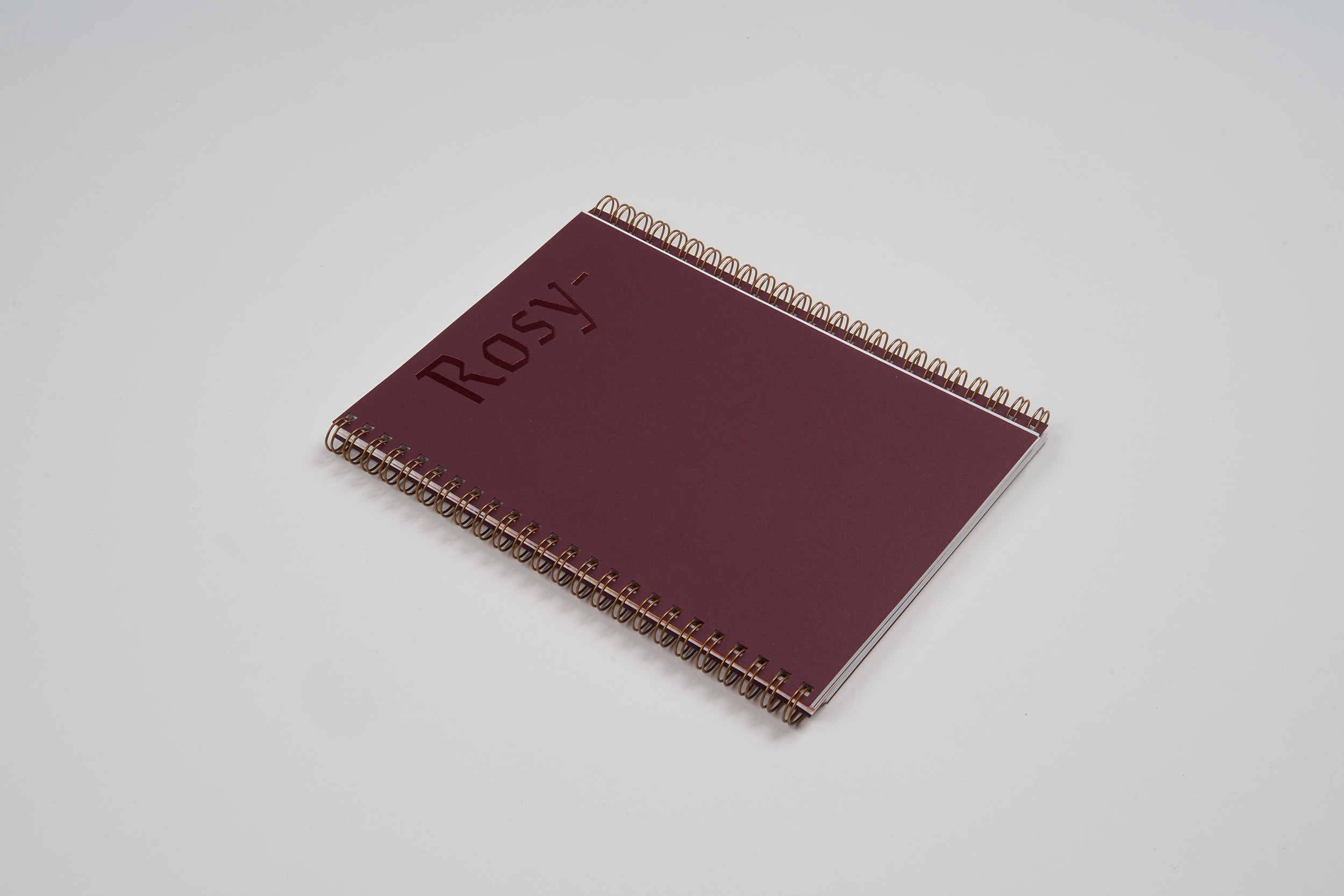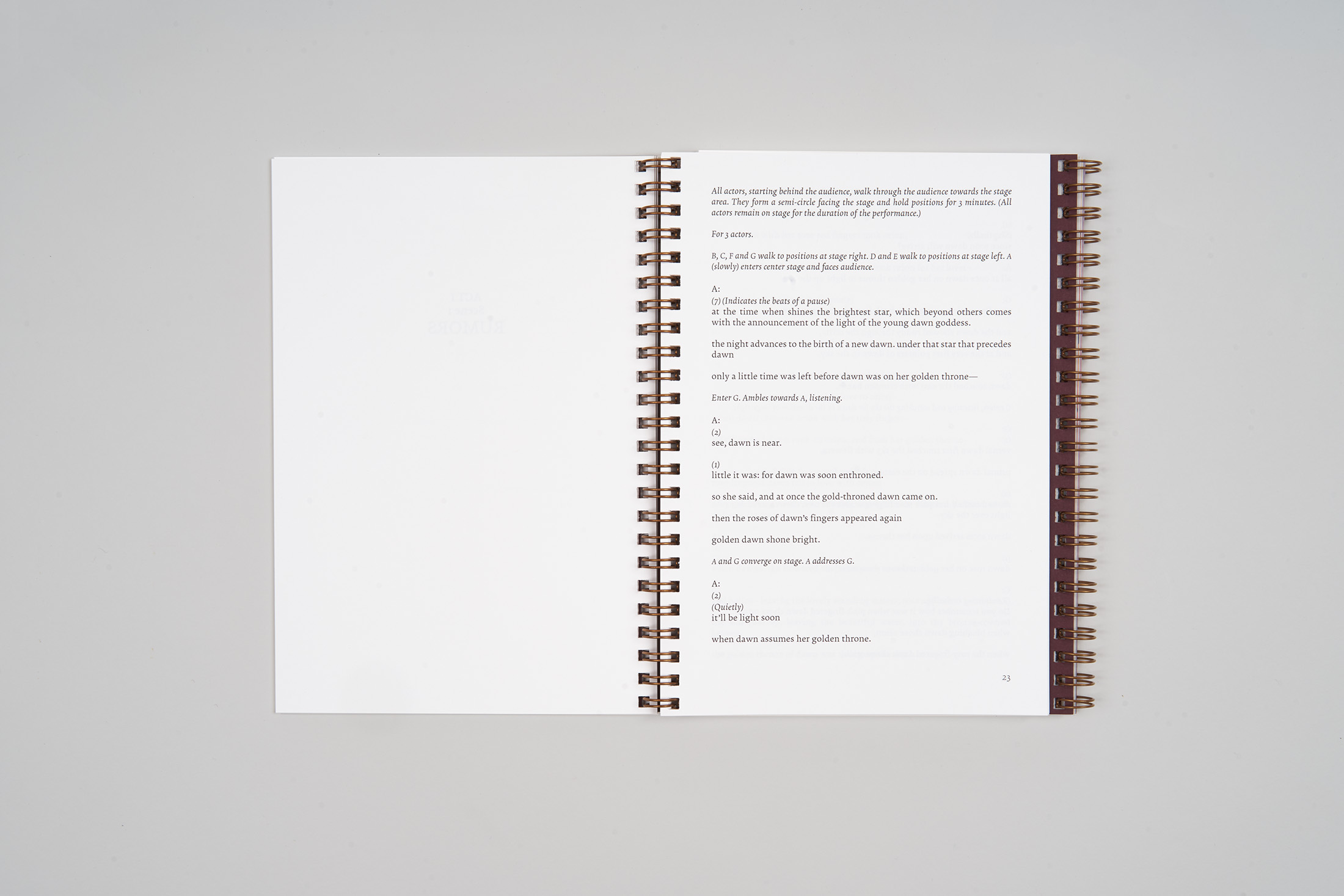 FREQUENTLY ASKED QUESTIONS
GENERAL INQUIRIES


1. What is the minimum run size?

There is no minimum run size! We typically produce projects with run sizes in the 1-2000 unit range, and recommend that all offset printed projects are an edition size of 300 or above.



2. What is the typical lead time?

There are many variables that will affect your project's lead time. Our current minimum lead time for any project is 6 weeks, and we charge rush fees to make sure firm deadlines are met. We generally recommend planning 8-10 weeks for production of standard digital offset projects, and 3-6 months for standard offset projects. All other projects are subject to the availability of the bindery calendar.



3. I'm not sure where to start with my project, and don't know my project specifications yet — what is the best way to start a conversation?

We offer consulting services on specialized projects to help guide you through the process. Some of the questions we recommend considering before your consultation is: Which details are most important for your project? Are you set on any particular materials, dimensions, or run sizes? What is the overall budget goal for this project? If you don't have an overall budget, then what is your goal for the individual 'per book' price?



4. Do you accept restoration projects?

Unfortunately, we are unable to facilitate restoration or conservation projects at this time.



5. Why is the 'per book' price higher on smaller run sizes?

Since all of our projects are custom-made, there are initial project set up costs for each project. The 'per book' price drops as these costs are spread out across the run. Therefore, it will always be cheaper to do a larger edition of a project once, than to produce two smaller runs of the same project.



6. Why does Small Editions ask for our ideal budget from the start?

Starting out by discussing your ideal budget for the project allows us to make the best recommendations for your particular project! We want to help you make the most of your budget, and are happy to provide guidance on materials, binding methods, print methods, and finishing details that complement your design goals.



7. Can I get samples from you?

Since all of our projects are custom-made, we will create a sample card with curated options for your particular project. Sample cards are $15 each. We'll be offering general sample books for sale soon.



8. Can I stop by the studio or schedule an in-person meeting?

At this time we are still limiting in person meetings in order to protect our team. You're welcome to schedule a virtual consultation here.



9. Once my project is ready, where can I collect them or have them shipped from?

All projects can be collected from the studio located at 20 Grand Ave. #502 Brooklyn, NY 11205. All final shipping costs will be calculated from this location as well.



10. What is the difference between your publishing and production programs?

Our publishing program is not currently accepting applications. If you'd like to work with us, we recommend that you work with us through our production program.



11. Where do I find more information about your publishing program?

If you'd like to see the incredible artists we've worked with in the past, we recommend checking out our publishing page!





PRE-PRESS, PRODUCTION, AND MATERIAL QUESTIONS


1. Are printed hard proofs included in each quote?

Yes! For Digital Offset projects, we include one hard proof on the final paper for you to review. For Offset projects, we include 10 Epson proofs for color matching, and provide "blue lines"/plotter proofs (which are not on final paper) for layout and review confirmation. For all other print options, it is best to discuss the proofing process with us directly.



2. Will the hard proof be on the final paper?

Yes, if your project is printed Digital Offset. No, if your project is printed Offset. (See above question). All other print options should be discussed with us directly



3. Can you proof our project if we are working with another printer for final production?

We recommend working with your printer or someone they recommend, so that the correct color profiles are being used for your project and their requirements.



4. What finishing options are available?

The possibilities are endless! Feel free to send us reference images with your ideal budget range, so we can help you work towards your dream finishes. A couple of our favorites are foil stamping/debossing, fore-edge painting, and custom ribbon inserts!



5. What print options are available?

We have long standing relationships with print partners in both the US and Europe. Standard print options are Offset and Digital Offset, and we can recommend the best option based on your book size, run size, and budget. Additionally we are able to facilitate letterpress, risograph, fine art inkjet, screen printing, and laser printing.



6. What binding options are available?

Again, the possibilities are endless! Standard projects are typically Perfect Bound or Smyth-Sewn. For perfect binding we work exclusively with a coldset PUR. A couple of other favorite binding options are pamphlet stitch, Japanese stab binding, and Swiss sewn with a drop spine. Special binding methods tend to work better for different run sizes and budget ranges, and we're happy to discuss this further with you.



7. What papers are available?

The two main categories are Coated and Uncoated papers. Coated options are available in Glossy, Silk, or Matte; Uncoated is available in Smooth or Matte. (*Note: The weight, finishes, and brands available to you are dependent on the printing method used for your particular project.) We work with paper mills large and small, and are happy to recommend a few options that best suit your project!



8. What cover materials are available?

For softcovers, we recommend printing on cover weight paper or foil stamping a variety of cover stocks not suited for printing. For hardcovers, we regularly work with leather, cover cloth, simulated leather, and printed paper wraps. For all printed cover material, we recommend laminating the cover to prevent the ink from scratching off. Lamination options include: Matte, Soft Touch Matte, Gloss, and Silk. Please reach out to us with more specific material questions.



9. What environmentally friendly options are available?

While there are recycled paper options available, we don't always recommend printing on them! The environmental impact of specially sourcing internal paper options sometimes outweighs the benefit of using recycled options. With that said, we are informed on the options available, and happy to discuss them with you! There are many exciting options available for cover stocks such as paper produced in hydro powered mills or paper made from recycled disposable paper coffee cups.



10. What does Small Editions check for in prepress?

Our top priority is to check that all of your images are printing at the correct resolution and that the color profiling will fall in the desired range. We will call out any concerns we have about file formatting from colorspace to general formatting.



11. What should I (the client) be checking for in the prepress pdfs?

Please check the text/copy of the book closely! It is important to catch all spelling and copy errors before moving to the hard proof stage. It is also important to check for layout, color, and formatting concerns at this point. It is much more difficult and costly to correct problems in the hard proof stage, so please bring any concerns to us before approving! This is the stage to catch any major/minor file errors!



12. When/why do fees apply for changing the file post prepress pdf review?

Once you approve the prepress pdfs, we immediately start the process of producing your project. Steps such as imposition, ordering materials, and plate production are timely/costly steps that will affect how we navigate correcting the file change and the fees involved. We do our best to make sure that everything is clear and you're happy with everything before starting production.
SCHEDULE A CONSULTATION
Lorem Ipsum
Website design by Isobel Chiang
Website development by Aarati Akkapeddi