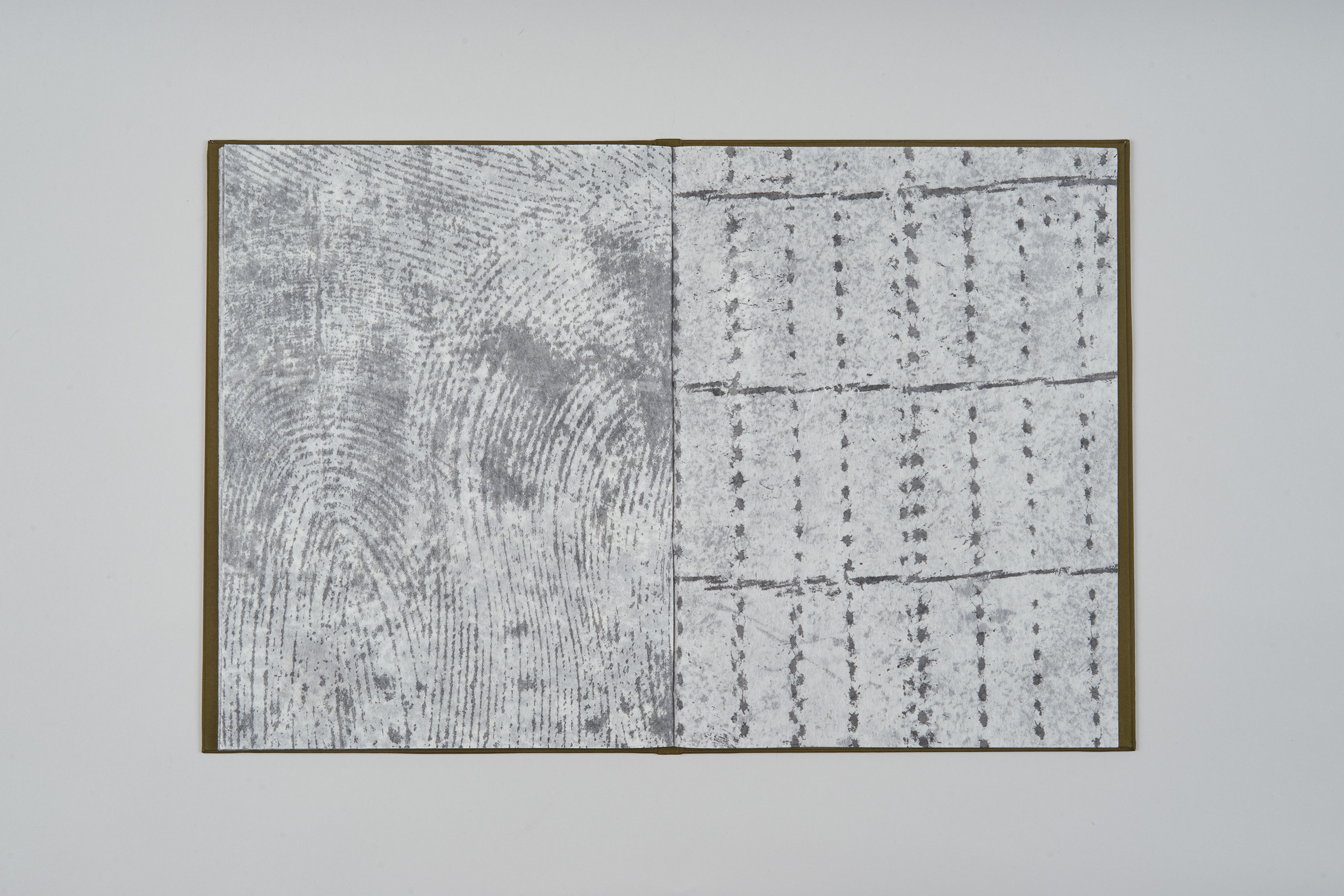 MORAINE
$1000
Corey Antis
2023
Moraine
is an expanded interpretation of an untitled, one-of-one artist book made by Corey Antis. Conceived as an atlas of various sites in the West Bottoms of Kansas City, the book comprises 2 original drawings made by ink frottage on 9gsm Tengujo paper. The prints act as a 1:1 map and a geological cross-section of areas soon to be built over, refurbished, or erased as the city's former stockyard undergoes redevelopment. Made on exquisitely delicate and transparent pages, these original drawings of industrial landscapes are made available to a select number of readers.
Moraine
, produced in an edition of 20 books + 2APs, allows the atlas to be experienced by a wider audience. The book is letterpress printed on 15gsm Sekishu paper and hardcover bound with hand-backed silk covers. Moraine adds a new dimension to Antis' ongoing project investigating site, sensation, and legibility.
Moraine is available in two different shades of green silk (images 1 and 9). Please contact
info@smalleditions.nyc
if you're interested in purchasing this title.
This title is held in the collections of:
The School of the Museum of Fine Arts at Tufts University




Production Details

9 × 12 in
72 pages
Long stich bound
Cover material: custom-backed Habotai Silk
Cover finishing: Black foil stamp
interior paper: Sekishu 15gsm, letterpress printed 1/0
Interior finishing: Habotai Silk-backed pastedowns with black foil stamp








Colophon

Edition of 20 +2AP
Published by Small Editions
Book concept by Corey Antis, Small Editions
Design by Isobel Chiang, Hannah Pierce
Bound by Sarah Nicholls
Letterpress printing by Sarah Nicholls
Habotai Silk backing by Sarah Smith
Polymer plates by Boxcar Press
Color separations by Kathleen Collins
SHIPPING TERMS AND CONDITIONS
GENERAL SHIPPING INFORMATION

We ship worldwide using USPS and UPS.

Small Editions will not be responsible for packages once they leave our studio. Lost or damaged packages must be filed as a dispute with the carrier. We recommend selecting UPS for all international orders.

We take great care of our products and packaging to prevent all damage to the final product. Any damages during transit must be formally filed with the delivery company. We are not responsible for any delays caused by the carrier and will not process any refunds for late deliveries.

All orders require at least 7 business days to be fulfilled.



INTERNATIONAL ORDERS

We recommend selecting UPS for all international orders. International customers may also be charged additional customs, duties, and import fees upon entry into the country, depending on the country's policies. These are the buyer's responsibility and cannot be estimated by Small Editions, so please consider this when placing international orders.



RETURNS AND EXCHANGES

These are often hand-bound publications — hand-collated, hand-stamped, and hand-assembled in our studio. They are irregular by nature. Small Editions does not offer returns or exchanges.

SCHEDULE A CONSULTATION
Lorem Ipsum